Dr. Tayo Clyburn had a deep interest in combating inequality and injustice at a young age. It would evolve into a pursuit of diversity, equity and inclusion as a career.
However, he was not introduced to higher education diversity work until graduate school at The Ohio State University (OSU). There, Clyburn had the opportunity to engage with his department's diversity committee.
"I think over time, I just came to learn how multifaceted and embedded injustice is in every system and institution," says Clyburn, who was recently named dean for diversity, equity and inclusion at Colby College in Waterville, Maine. "So, doing this work in higher education certainly spoke to me and let me sort of stay in my lane where I felt like I had the most passion. I had no idea that it was going to be higher ed."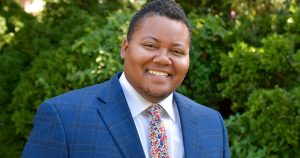 Dr. Tayo Clyburn
While working towards his doctorate at OSU, Clyburn became director in the university's Office of Diversity and Inclusion. After three years, he became executive director for mission and strategic partnerships at OSU. In that role, Clyburn built relationships with university stakeholders and partners.
As part of a multi-year project, he worked on the Buckeye Portal for Inclusive Excellence, which laid out a strategic plan for the university to work towards its equity and inclusion goals. The project addressed overall challenges of diversity and inclusion as well as how they were unique to OSU.
"I was really, really proud of that work," says Clyburn. "I think that it will serve as an example for a lot of very large, heavily matrixed institutions, not just in higher education, but I think beyond that."
In 2019, Clyburn became vice president for inclusive diversity and equity and chief diversity officer at St. Mary's College of Maryland. While there, he collaborated with the Office of Student Affairs to create a more curricular approach to diversity, equity and inclusion education. Additionally, Clyburn says he helped recruit and retain faculty, employees and students from historically underrepresented backgrounds. For Clyburn and St. Mary's, these efforts spoke "to the needs of our p
Read more: https://diverseeducation.com/article/190186/